Ruby FDA – Air Operated Diaphragm Pump
• Delivery rate: max. 820 l/min
• Operating pressure: max. 7,0 bar
• Suction head dry: max. 5 m
• Suction head product-filled: max. 9,0 m
• Housing Material: AISI316 Stainless steel electropolished
• Available sizes : DN 25, DN40 , DN50, DN80
• Available certificates: ATEX II 2 GD c IIB T4 , CE , EAC, FDA approved.
• Operating Temperature : Max 130°C
Ruby FDA composition codes
Available in AISI 316 Stainless steel (Electropolished)
Ruby Air operated diaphragm pneumatic pumps are manufactured fulfilling FDA requirements. All materials in contact with the liquid are realized according to FDA requirements. The whole range is in AISI 316 electropolished according to the International Provision ASTM A380 and PTFE and EPDM diaphragms are of new technology with integrated piston (Compound).
Features
Optimal performance
Economical air consumption, ecological designing
High efficiency for pressure / capacity
Oil free operation
No freezing
New air valve designing, fully controlled air passing
Easy disassembling and re-assembling
New generation diaphragms with embodied inner-outer piston
New generation PTFE diaphragms of embodied type for long-life operation (compound)
Advanced quality Full capacity PTFE-A diaphragms for high chemical and mechanical applications
Potential to be submersible (on request)
Possibility to be used in dirty environments due to their closed designing
Easy manifold reverse
Automatic suction
Ruby Innovative oil free air valve


The heart of the Ruby pump is our innovative, new design air valve. In respect for New Era demands, to create and offer High Quality product, with high interest for the environment and it's protection the Air valve of the Ruby Diaphragm Pumps has been created to offer: 
Oil free operation
Low need for maintenance
Not affected by minor contamination of compressed air
Significant energy saving
Non freezing operation
External environment operation
No dead centre
Long life
Reliability
Advance unified diaphragms featuring: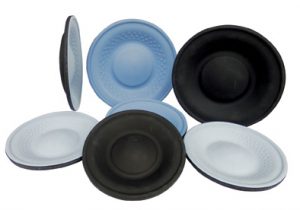 Easy installation and maintenance
Excellent service life
Inventory cost reduction
Improved performance
Greater displacement per cycle
No center hole, elimination of potential leak paths.
There is no need for the main axis to be insured
They can be screwed and unscrewed without the use of tools